« Posts by Jeff
It's incredibly long overdue that I write something here. Many things have been happening, though many things are still the same.
In terms of game-related work, I received a nice credit for violin fx on Gears of War 3, which was brought about thanks to Lance Hayes, who included recordings of mine in some songs for the game. In the same vein, Sam Hulick also contacted me for some violin recording work on Red Orchestra 2. It's a fantastic soundtrack, and I contributed to at least seven or eight of the tracks. It has a very classical sound, with Russian and Germanic flavors denoting the two sides of the battle. Sam ended up contacting me later on to use my violin skills for a track on Mass Effect 3. So if you end up having in-game sex, you'll hear eight layers of me on top of myself.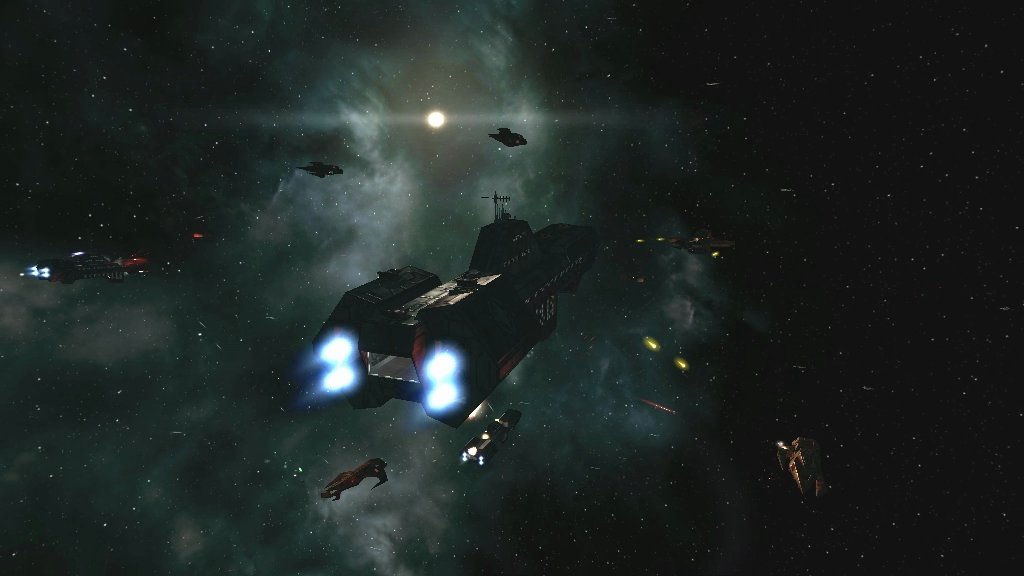 I finished my work on Wing Commander Saga! The game that I've been on-and-off with for three years finally has all the music they want from me, and I couldn't be happier. The soundtrack sounds great, and it's definitely been the most difficult project I've ever worked on. Very high standards all around with incredibly nostalgic developers to report to. The game is in the final stages of development, and it will be free once it comes out. I'm really looking forward to playing the whole thing, even though some of my music there is three years old. The game itself looks killer. I even got to meet one of the producers on my trip to DC this past weekend, which was pretty awesome.
I've also been involved in a lot of remixing projects lately, since the game soundtrack business is quite slow. 25 Year Legend has come out, which is essentially an album of indie game composers coming together and creating some awesome tracks to celebrate the 25th anniversary of the Zelda franchise. I contributed on two of the tracks, one of which was for Big Giant Circles, in form of some epic violin. The track I remixed can be found here.
Catching up to now, I just got back from Magfest, which was amazing. If you don't know about it, and you're into video games or music from video games, it's really worth checking out. I got to see Nobuo Uematsu perform with his band, Earthbound Papas, and met the voice of GladOS, who is a wonderful woman if you ever get the chance to see her. I was also part of an indie composers panel, which discussed the trials and tribulations of being a composer for independent games, including some pro-tips. Big thanks to Josh Welchel for inviting me to be a part of that. Other panelists included Jake Kaufman, Rich Vreeland, Wilbert Roget II, Andrew Aversa, Grant Kirkhope, and Danny Baranowsky. I also learned a lot of valuable things about Famitracker from Jake Kaufman, who's an awesome dude that I need to probably send some e-mails. Also Grant Kirkhope gave an amazing rant about why video game marketers are less than desirable people, though he used much stronger language. It was so true, yet so incredibly hilarious. I should probably send him some e-mails as well.
Bonus: Astroman was on a top 20!
Other than that, there are some video game projects coming down the line, but I can't talk about those yet! However, everyone gets a hug because hugs are the best thing ever. *hug*
Just a quick update showing a page from Game Developer Magazine's February issue. Astroman was chosen as one of the 10 best Xbox Live Indie games of 2010!
This issue was in everyone's bag at GDC, but it never crossed my mind to open it up to look at it while I was down in SF. I was kinda too busy networking my face off.
Since the conference, I've gotten some good violin gigs, but nothing solid in terms of composing. I'm working on making some higher quality demos that sound more current, and I might also make a sound design demo if I can swing that. I still don't have a lot of experience with creating demos, but It seems pretty intuitive.
GDC this year was fantastic, I had a lot of fun catching up with old contacts and making new ones, but definitely the highlight of the trip was winning the 2011 GANG award for Best Handheld Audio on Monkey Island 2: Special Edition.
Jesse Harlin and Wilbert Roget did an awesome interview with Mixnmojo.com about the game, and some of their other projects. Check it out!
They only gave us one award for five or six people, so I took a picture of it before the awards were over (you can see one of the sound designer's french fries in the corner).
After arriving home, I swam through a sea of business cards and e-mails, and came out the other end in once piece. I got a lot of interest in my violin playing at the conference, and a small interest in the music I've written, so we'll see how that pans out in the next few months.
New developments include a potential live demo recording session with Lance Hayes. We're in the planning stages at this point, but I'm looking forward to orchestrating and hearing some of our music recorded live. Also, Wing Commander Saga finally hit beta. I signed on for that project over two years ago, so it's fantastic to see that the game is finally getting polished and ready for distribution. My only wish now is that I had time to convert those tracks that use my older crappier sample libraries into my new ones.
Other than that, there's just a lot of possibilities for things to happen, and it's kind of exciting. I'm looking forward to this year.
Got some new demo material online just in time for GDC! Also added all these tracks as mp3s in their respective sections (top right), so if you're on an iPhone you can still check them out:
Music Production
and
Violin Performance
Lately I've had a lot of soundtrack releases, some old and some new, some for PC some for iDevices. So I decided to make a single post for all of them.
This game, made by Tim Omernick, is a retake on bullet hell shooters. Your finger guides a molecule through various arrays of bullets that are either friendly or deadly, depending on the color. There are also color changing bullets that you can use to switch colors. The game is very unique.
This is a retro game inspired by the Frost Giant's Daughter by Robert E. Howard. You play as a young Conan the Barbarian in the ice fields north of his homeland. He finds a beautiful woman and lusts after her. He chases her, battling through fields of wolves and dead warriors which she summons to life. Eventually he is lead to the Frost Giants where he battles with them. The game was made by Michael Stearns, who did the art for Astroman. The game is short, the main character is tiny, so the soundtrack is appropriately small as well. The game is free, so check it out! (click on the title.)
Circle of Elders
This was my first original soundtrack, which was destined for a Dungeon Siege mod that was never completed. The tracks were produced in 2001, when I was 16 years old. I've never published all of them up until this point. I figured it was fitting, since it's coming up on ten years. The sounds are midi soundfonts, and the reverb is actually recorded through live playback using my old Sound Blaster Live Value's EAX reverb, which is hilarious in retrospect.
This is actually, even after arranging music on Monkey Island 2: Special Edition, the first time my original music has ever been published in a game, and the first time I've ever done sound design. That said, I'm very proud that the game has been well received, and that the soundtrack has been getting good reviews from those who've played the game. The kind words mean a lot, and as my thanks, the soundtrack is yours for free!
Alternatively, if you don't feel like downloading it, here's the soundcloud playlist:
If you haven't played the game yet, please check it out on the Xbox 360 Indie Games market.
Two or three years ago, when I had no idea what I was doing with networking at the Game Developers Conference, I was recommended to read this guide to Effective Networking In The Game Industry written by Darius Kazemi. He covers many aspects of networking, and it helped me a ton. I highly recommend it if you're ever planning on going to GDC.
I sent Darius an e-mail recently to thank him, and wrote about how his blog changed my perspective. He was interested in making the e-mail into a blog post, and now you can check it out on his website!
I wrote a techno.
People are saying it sounds European, so I'll believe them. I want to make this into an album eventually, so I think I'll start planning that out.
Other things are progressing:
Astroman, a game which I did all of the sound design and music for, will be coming out sometime in the future. It has been delayed because after some beta testing, it was determined that the level design made the game too difficult, so that's being adjusted.
Sam Hulick is finishing up with the music for Heroes of Stalingrad, and I'll be recording a few more violin parts for him. On an interestingly related note, I was researching David Oistrakh, a prominent violinist during the war. I read on Wikipedia that the most heroic act in his life was his performance of Tchaikovsky's violin concerto to the end in the downtown music hall during the Battle of Stalingrad in winter 1942 while downtown Stalingrad was being massively bombed by the German Luftwaffe. Though I'm not playing that for Sam (thankfully).
I'm also playing violin parts for Wilbert Roget, II on a personal project of his, so that's taking up some time as well.
I also get to play the Nutcracker twice this season, once on violin and once on viola, so that should be interesting. Tchaikovsky's Nutcracker suite is not an easy piece to play. It's got a lot of awkward scales, and very fast non-idiomatic passages. Tchaikovsky wasn't a string player, so he wasn't too keen on making things easy. I'm sure he would have, if he would have known, but then again he's Tchaikovsky and probably did whatever the hell he wanted.
I'm still living in Walla Walla, and I desperately need to move to Seattle just to get out of here. That could be happening sooner or later, depending on if a certain bid gets accepted somewhere in the land of video game developers. I'm sort of on baited breath about it, though I'm sure that will lead to a let-down, as it inevitably does.
Today was also the first snow of the season, so I guess we'll be dreaming of a white thanksgiving, unless it all melts before Thursday.
Axel Rohrbach was here from Germany this last weekend, and part of this week. We recorded lots of guns over the course of three days (one of which involved lots of rain, and not a lot of recording). They will be part of a Boom Library in the future. The location was beautiful, and the reverb tail from the valley was amazing to hear.